Vacuum Tray Dryer (VTD)
Vacuum Tray Dryer is suitable for drying of thermal sensitive materials easily resolved, polymerized or deteriorated under higher temperature. Sterilization can be conducted prior to the drying process, during which no matter is allowed to enter the product. Static vacuum dryer eliminates the configuration damage of the drying materials, there fore widely used in pharmaceutical, chemicals and foodstuff etc,.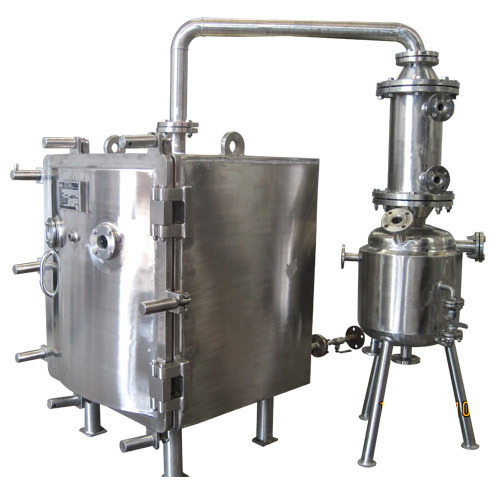 SALIENT FEATURES / MOC (in GMP Model) :
The Micronising Mill has many advantages over conventional comminuting equipment.
Main Body/Vacuum chamber SS316 with heavy duty SS316 flange and Stiffeners.
Door SS 316 (hemisphere shape) with heavy duty SS316 flange.
Shelves Hollow Type pads SS316 with flow Baffles.
Condenser (Shell&tube) and Receiver in SS 304 with Isolation valve and Flow Glass in between to monitor condensation.
Trays (with out back folding) in SS316 rounded corners and edges.
Explosion Vent/Rupture Disc on vacuum chamber.
Digital Temperature Controller (FLP) with solenoid controlled Pneumatic operated valve at Hot Water inlet.
Provision for Validation Port on Body
Digital Temp., Indicator (FLP) at H.W. inlet & outlet.
Dial type Vacuum gauge and Digital Temp., Indicator (FLP) in Vapor line.
Pressure release valve in Steam line.
View Glass/Light glass provided on vacuum chamber Door, Body and Receiver.
Silicon transparent gasket for door.
Nitrogen purging valve provided on Vacuum chamber.
Vacuum break valve provided on vacuum chamber
Drain valve for Vacuum chamber and Receiver.
Temperature Accuracy : _+ 2 to 30C
FINISH : Internal 320 Grit Mirror Polish and Outer 180 Grit Mat Finish.
OPTIONALS:
Heating Shelfs unit movble system fitted on SS316 Trolley and SS304 external Trolley.
Condenser and Receiver in SS 316 instead of SS304.
Limpet coil on Vacuum chamber.
Insulation on the vacuum chamber outer surface except door. The insulation is enclosed and covered with removable SS 304 panels
Skirting/Wall panel all along the body/vacuum chamber flange
Hot water system (Steam heated) with tank (Insulated), SS304 Steam Radiator/Electrical heaters, Circulation pump with FLP Motor and controls.
vacuum tray dryer specifications vacuum tray dryer working principle vacuum tray dryer pdf vacuum tray dryer working principle pdf vacuum tray dryer diagram vacuum tray dryer manufacturers vacuum tray dryer design calculation vacuum tray dryer price