Ribbon Blender manufacturer In Ahmedabad
Stainless Steel ribbon blender, Spice ribbon blender, Horizontal ribbon blender.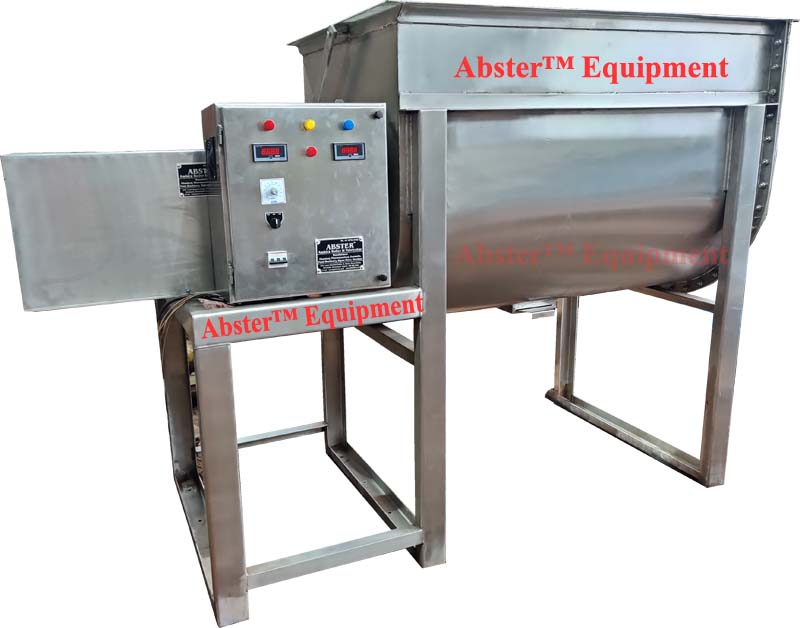 Basic Info
Ribbon Blender manufacturer in Ahmedabad - Ribbon mixer can be used for the materials mixing production in food, medicine, chemical plastic,dyestuff and cosmetic etc industries to mix solid-solid(powder and powder),solid-liquid(powder and liquid), especially, suit for mixing the materialadhesive or containing coherent powder articles and that powder articlesmaterial which is added with more liquid(or pasty material) and features aquick mixing speed, a high precision, non-blind mixing area, a great fillingcoefficient, stable movement, sealed operation, without pollution to theenvironment, quick and clear discharge without residue, easy to use andmaintenance.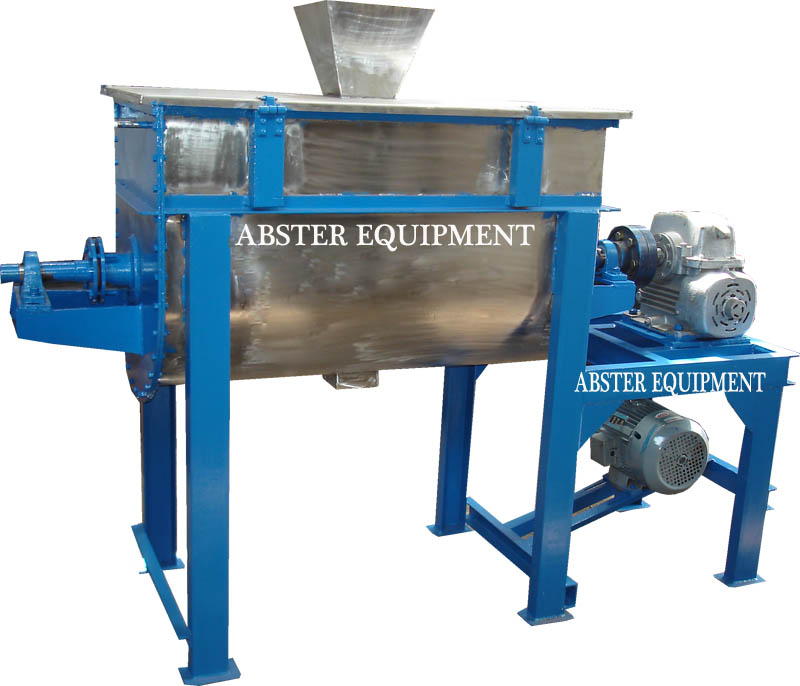 Working Principle:
With the actuation of the directly link decelerator, the rotor moves in a fixed direction and , during its movement,the horizontal ribbon mixer pushed [working principle] the material to move along with the axis and, on the other hand, throw the material to the front upper of the helicalribbon. The helical ribbon on the outside layer makes the material always moving towards the center of the barrel while the one on the inside layer makesthe material moving towards two ends from the center, thus two cycled ways offlowing are formed with the material, making it fully mixed in the repeatedflowing circulation.
An alternate design is the paddle agitator or Paddle blender. The paddles are positioned to move the material in opposing lateral directions as well as radially. The paddle design is generally employed where friable materials are being blended, and when batches as small as 15% of the total capacity are going to be mixed in the blender.
Ribbon blender- Applications
Food & Ingredients, Infant formula, cocoa mix, instant salad dressing, cake mixes, seasonings, flavorings, gelatin ... the list of food material in which our blender can speed up mix times and provide consistent uniformity, goes on and on. All models can be outfitted with cleaning nozzles to aid in batch changes. A variety of feed and discharge arrangements are possible to tailor to your needs.
Our blenders provide the required uniformity in shorter times which means less dusting and breakage of the ingredients that can cause gastric ulcers in the animals, and bridging of downstream handling equipment. Additionally, by using scrapers or drop bottom discharge, the amount of material left over between batches is minimized, reducing the opportunity for bacterial growth.
Slurries The action within ribbon blenders is vigorous enough to homogenously distribute liquid slurries. Special high speed intensifiers can be added to the bottom to help break lumps that may be present. Proper shaft seal design is critical for handling liquids. Shaft seal choices include: mechanical, packing glands and double mechanical.
Ribbon Blender Specification
| Model | Nominal Volume | Mixing Volume | Speed(RPM) | Motor Power |
| --- | --- | --- | --- | --- |
| RB-0.1m³ | 100L | 40L-60L | 76 | 3KW(4HP) |
| RB-0.3m³ | 300L | 120L-180L | 66 | 4KW(5.5HP) |
| RB-0.5m³ | 500L | 200L-300L | 66 | 5.5KW(7.5HP) |
| RB-1m³ | 1000L | 400L-600L | 41 | 11KW(15HP) |
| RB-2m³ | 2000L | 800L-1200L | 41 | 18.5KW(25HP) |
| RB-3m³ | 3000L | 1200L-1800L | 33 | 22KW(30HP) |
| RB-4m³ | 4000L | 1600L-2400L | 33 | 22KW(30HP) |
| RB-5m³ | 5000L | 2000L-3000L | 26 | 30KW(41HP) |
| RB-6m³ | 6000L | 2400L-3600L | 26 | 37KW(50HP) |
| RB-8m³ | 8000L | 3200L-4800L | 26 | 45KW(61HP) |
| RB-10m³ | 10000L | 4000L-6000L | 20 | 55KW(75HP) |
| RB-12m³ | 12000L | 4800L-7200L | 20 | 55KW(75HP) |
| RB-15m³ | 15000L | 6000L-9000L | 17 | 75KW(102HP) |
| RB-20m³ | 20000L | 8000L-12000L | 17 | 75KW(102HP) |
Ribbon Blender Manufacturer in Ahmedabad,Gujarat,India, ribbon blender manufacturer in bangalore ribbon blender manufacturer in mumbai. ribbon blender price india. ribbon blender manufacturer in pune . ribbon blender manufacturers. ribbon blender machine. ribbon blender specification. ribbon blender manufacturer in chennai