Stainless Steel Mixing Tank
stainless steel mixing tanks for sale, stainless steel jacketed tanks for sale,Stainless Steel Alcohol Storage Tank, Alcohol Tank,Alcohol Storage Tank,Steel Alcohol Storage Tank heated stainless steel mixing tanks, 300 500 1000 Liter stainless steel tank, Stainless steel mixing tank, 1000L stainless steel beer fermentation tank, fermenting equipment, stainless steel mixing tank with agitator Gujarat located in Ahmedabad, India.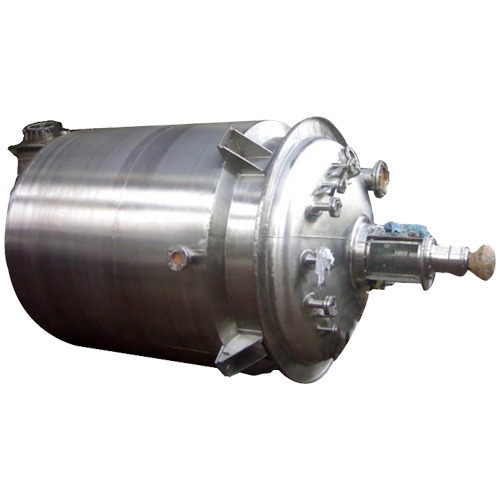 Usage:
Resins, adhesives, paint, cosmetics, pharmaceutical ,pigment,and other chemical production.
Consist & Principle
Reactor consists of the reactor body, tank cover, jacket, agitator, transmission, shaft seal device and supporting.To break down or recombined the materials through mixing, filling and cooling, to promote the reaction of polymerization.
Discription:
The reactors are made of SUS304,SUS316L stainless steel material . The mixers are divided into anchor type , frame type , oar type and turbo type ects . The rotation mechanism can adopt cycloid pin gear reducer and stepless speed reducer . The sealing mechanism can adopt mechanical sealing . The heating and cooling can adopt jacket , semi-tube and coil structure ects . The heating methods are steam , electric heating and heat transfer oil to satisfy the technology requirements under different work environment such as anti-acid , anti high temperature , anti-abrasion and anti-corrosion . The design and manufacturing can be carried out according to the technology requirements of customers .
Advantages:
Anti-acid, anti-high-temperature, anti-abrasion and anti-corrosion
The planetary type stirring, automatic scraping, uniform mixing, and complete reaction.
Useing the heat transfer oil to heat, which is energy saving, environmental protection, security and so on.
Useing the advanced mechanical sealing, which is easy to operate.
It is made of carbon steel or mild steel. You can customize the reactors in SUS304, SUS321, and SUS316L.
Easy to discharge, bottom direct discharge or by transfer pump.;