100L Unsaturated Polyester Resin Plant
Product Description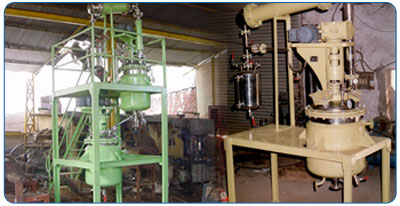 Description
100L Pilot Reactor:
Working capacity is 100L,
total capacity is 153L.
Internal vessel sizes are Ø500 x700 x 5mm, made of SUS316L.
Jacket made of SUS304. Thermal insulation is expanded perlite.
The upper bulged hemispherical cover is assembled with the cylinder through a flanged coupling.
All parts contacting chemical materials are made of SUS316L. Inside-out polished. Jacket is for thermal oil heating and internal coil is for water cooling. Operation platform is made of SUS202, covered by aluminum alloy checkered plate, skid-proof.Ex SIEMENS /Crompton motor 1.5KW, 220V/380V/50Hz/3phase.
Slow-speed anchor and paddle type agitator blade, rotating speed 0-63rpm, mechanical seal, frequency inverter. Temperature transmitter, temperature instrument, pressure instrument, Nitrogen pipe, manhole, sight glass, light, thermal oil inlet & outlet, cooling water inlet & outlet, open downward discharge valve etc.
Explosion-proof electric control cabinet, push-button type manual control of power on/off, agitator speed and display temperature, oil pump, heaters etc. Vertical packing column, made of SUS316L, packed with rushing rings.
Vertical condenser. shell and tube type horizontal condenser, sizes are Ø200x1500mm, heat exchange area is 3m2, all parts contacting chemical materials are made of SUS316L, shell is made of SUS304. Separator 50L, made of SUS316L.Water-ring type vacuum pump 1.5KW, maximum vacuum can reach -0.09MPa.Thermal oil heating tank, total capacity 200L, equipped with 3pcs of 6KW electrical heaters.
Thermal oil pump, explosion-proof type. Piping connected among oil tank, pump and reactor.
Model selection reference of reaction kettle
| | |
| --- | --- |
| Composition | Instructions |
| Specification (L) | 5-200 |
| Design Pressure (Mpa) | Atmospheric Pressure or under pressure |
| Material | Carbon steel, stainless steel, enamel, graphite |
| Heating Forms | Electrical heating with medium in jacket, external half coil steam heating, external half conduction oil heating, hot water infrared heating etc. |
| Cooling Forms | Refrigeration medium in the internal pipe jacket |
| Blending Power | Model selection is made according to material viscosity, liquid-solid ratio, liquid specific gravity, solid specific gravity, solid granularity, rotation speed, paddle type, with or without baffle or internal coil. |
| Stirring blade Forms | Anchor type, frame type, flat paddle type, pitched paddle type, ribbon type, turbo type, pusher type and multiple compound type |
| Seal | Mechanical seal or stuff packing seal |
| Inner Surface Treatment | Polished or no polished |
| Discharge Valve | Flanged ball valve, open downward discharge valve and others |
| Technological Pipe Hole | Manhole, sight glass, distillation mouth, imported materials, pressure gauge port, temperature, mouth, mouth filling N2, |
Technical Parameter

Model


Parameter
Reactor Volume(L)
Mixing speed (rpm)
Heat exchange surface (m2)
Separator(L)
Total power(including heating power)(KW)
Abster10
10
0-84
0.5
5
6.37
Abster30
30
0.5
12
12.37
Abster50
50
1
15
18.55
Abster100
100
2
25
19.65
Abster150
150
2.5
30
26.2
Abster200
200
3
50
33.5
Note: In case of inconformity of the data in the table due to technical improvement or customization, the real object shall prevail.
This equipment is including: Reaction vessel, mixing system, vacuum system, condenser, separator, conduction oil preheating system, platform.

1. Heating and cooling method: 1. Heating and cooling by jacket. 2. Heating by jacket and cooling by inner pipe coil.
2. Type of electrical device: 1. Ex-proof type. 2. Normal type
3. Electric cabinet control mode: 1. Touch-screen control. 2. Button control